10 Instagrammable places in Atlanta that will sleigh your feed during the holidays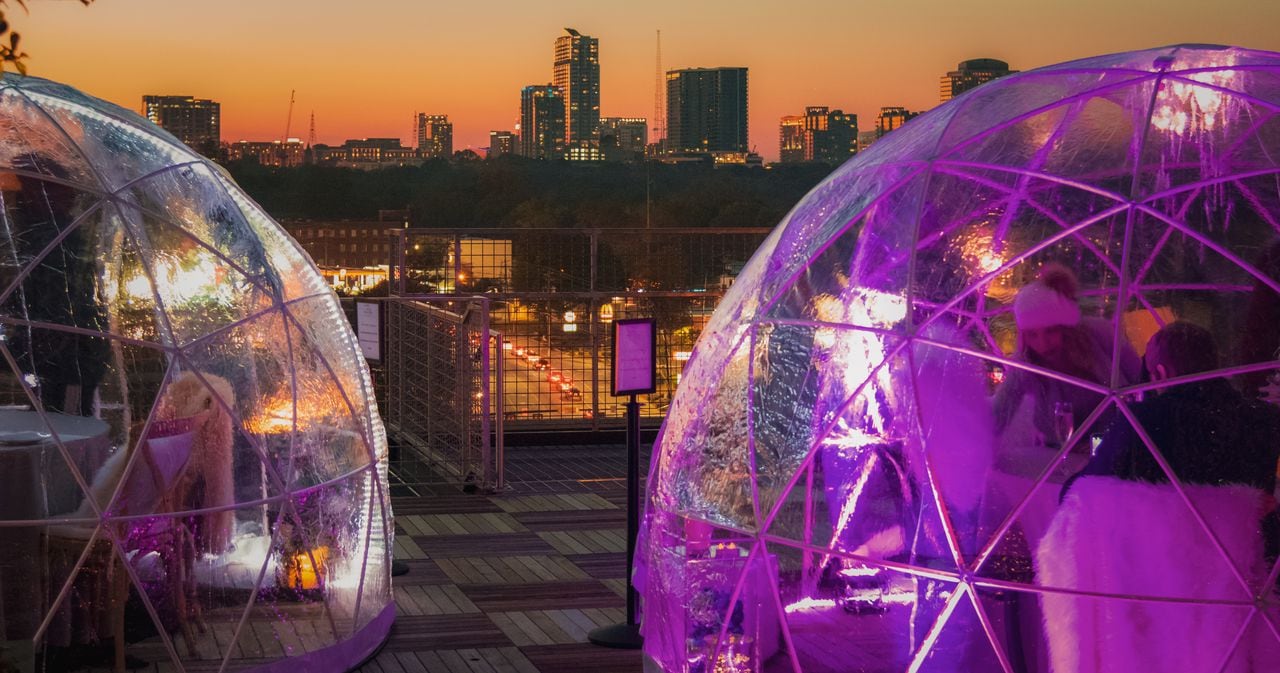 Ready, set, glow! It's the most wonderful time of the year, filled with bright lights and festive decorations that were just made for your Instagram feed. From seasonal events that are fun for the whole family to pop-up bars for the 21+ crowd, there is no shortage of holiday cheer around the city that will look great captured on photo and/or video. Your IG is going to fa-la-la-la-love the 10 options below.
CHECK OUT: Your guide to holiday lights around metro Atlanta
Rockin' Around the UrbanTree at Urban Tree Cidery
From Nov. 23 to Jan. 8, walk into a cider-filled winter wonderland at Urban Tree Cidery. There's nothing quite like delicious cider during the holiday season, and this holiday pop-up takes it one step further by brewing up festive drinks alongside photo ops, holiday music and lots of games.
Location: Westside - 1465 Howell Mill Rd NW; Website: urbantreecidery.com
The North Pole at Colony Square
Journey to the North Pole in the heart of Midtown Atlanta, filled with igloos decorated with holiday cheer. Also called a "holiday speakeasy," the Instagram-worthy igloos serve cheery cocktails from Establishment. Colony Square also has an ice rink, for those who want to really get into the holiday spirit with a favorite seasonal pastime.
Location: Midtown - 1197 Peachtree St NE; Website: colonysquare.com
The Jingle Bar at Chattahoochee Food Works
Get suited in your best festive holiday clothes and head over to Chattahoochee Food Works' winter pop-up bar, the Jingle Bar, to enjoy "crafted holiday drinks and festive treats." The Jingle Bar opens on Black Friday and will jingle all the way through the end of December, from 5-11 p.m. on Thursday and from noon to 11 p.m. on weekends from Friday through Sunday.
Location: Westside - 1235 Chattahoochee Ave NW; Website: instagram.com/chattahoocheefoodworks
Tinsel Tavern at the Battery Atlanta
Open from Dec. 1 - 24, Tinsel Tavern serves up the best Instagrammable-worthy photo ops full of festive sparkle. Located within The Tavern at Sports and Social, this pop-up bar will be a sensory overload of decorative lights and tinsel. They'll also have themed nights, so get your ugly sweaters ready to wear and prepare to bake some boozy cookies while you're at it, too!
Location: Cumberland - 825 Battery Ave SE; Website: liveatthebatteryatlanta.com
CHECK OUT: Share your Atlanta experience! Vote for the top local restaurants
Miracle Bar
It's a Christmas miracle – Miracle Bar will be back on Monroe Drive this year, full of the best holiday decor that will get you (and your Instagram feed) in the spirit of the season. Order from a festive menu ranging from mulled wine to holiday spiked chai to a Christmapolitan and more.
Location: miraclepopup.com
The Blind Elf at The Blind Pig Parlour Bar
The Blind Pig Parlour Bar in Buckhead's East Andrews will once again be transforming into The Blind Elf this holiday season, set to bring "holly jolly" cheer and festive, over-the-top decor that will light up your Instagram. Prices for the "Blind Elf Experience" start at $70 and include two holiday cocktails and two appetizers. On Sundays from 2-4 p.m., the Blind Elf is also open for the entire family to enjoy.
Location: Buckhead - 128 East Andrews Drive (black unmarked door behind Chido and Padre's); Website: theblindpigparlourbar.com
Holidays on the Roof: Skate the Sky at Ponce City Market
"Skate among the clouds" on the Ponce City Rooftop this year, chill out in heated igloos overlooking a panoramic view of Atlanta, and check out the pop-up Holiday Social Bar, where you can imbibe in festive drinks perfect for everyone, no matter whether you're on the naughty or nice list.
Location: East Atlanta - 675 Ponce De Leon Ave NE; Website: poncecityroof.com
Garden Lights Holiday Nights at the Atlanta Botanical Garden
The Atlanta Botanical Garden lights up into the most magical winter wonderland during the holiday season at their annual Garden Lights Holiday Nights exhibit, which runs until Jan. 14. Take videos of the holiday lights set to joyful music in various locations within the garden, including the lush forested canopy as well as the Atlanta skyline, perfect for that IG story. Don't forget to pose for the camera with the Ice Goddess and within the Tunnel of Lights.
Location: Midtown - 1345 Piedmont Ave NE; Admission: Starting at $24.95; Website: atlantabg.org
IllumiNights at the Zoo
Zoo Atlanta has partnered with Hanart Culture to showcase a unique Chinese lantern experience, perfect for the 'Gram. Set against the zoo habitat, this Instagrammable adventure brings together the best of natural wildlife mixed with awe-inspiring lanterns designed and hand-painted by Chinese artisans.
Location: South Atlanta - 800 Cherokee Ave SE; Admission: Starting at $17.99; Website: zooatlanta.org
Stone Mountain Christmas
Experience dazzling holiday lights and shows at Stone Mountain Park, which celebrates Christmas with an all-out event that lasts until Jan. 1. Get the perfect shot against a colorful backdrop within the Musical Frosted Forest, and grab footage for that perfect IG reel or story at the new Drone Show, which features hundreds of color-changing drones that light up the sky in synchrony.
Location: Stone Mountain - 1000 Robert E Lee Blvd; Admission: Starting at $34.95; Website: stonemountainpark.com Next: 3 must-try holiday recipes approved by Atlanta food royalty
It's that time of year when families and friends gather around the …